We're no strangers to Fraser Island. It's the third time here for The Skipper, the second for me, and it's a whole new world of adventure about to open up for the Squids as we explore the world's largest sand island. It's a first however, for us all to sink our heads onto the pillows of Kingfisher Bay Resort.
We're going to pamper ourselves a little. We're swinging into Kingfisher Bay Resort as part of our BoundRound family travel app partnership while exploring Australia.
Swapping our cosy camper for the eco-luxury of a resort stay at Kingfisher Bay Resort was certainly netting us thumbs up from the Squids. The Skipper and I were equally excited.  Fraser Island's Kingfisher Bay Resort is part luxury, part eco-experience and ALL relaxing.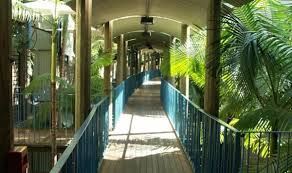 The resort is on Fraser Island's western side and touted as being a "stress-free eco holiday zone". It's also an ideal launching pad to explore this World Heritage Wilderness.
Fraser Island itself is accessible only by ferry or plane which lands right on the beach at the ocean side of the island. We checked in after a 50 minute barge crossing with the camper and car from River Heads.
We're quite happy to farewell the sleeping bags!! We've got a night in queen size beds, adjoining kids rooms and a private balcony to enjoy before we head off explore the numerous tracks and walks of Fraser Island by 4WD and camper on our own.
Checking-in in the airy, tropical reception area (it's not often you see palm trees inside a building) we scan an active day of suggested adventures with the Activities crew.
We take up the opportunity to join Eco-Ranger and Activities Guide Cassie for a Bush Tucker and Medicine Stroll, as she introduces us to native plant life's many gastronomic, healing and preventative uses.
Cassie points to a dense banksia bush heavy with yellow and green 'botte brush' blossoms. While my fondness to them extends to a floral arrangement, it turns out that my sweet tooth would be equally satisfied. Suck on the sweet beads of nectar from the banksia flower to satisfy a sweet craving, or dip it into water and you create a mighty fine refreshment.
Cassie goes on to crush a Lemon Myrtle leaf from a nearby tree between her fingers, and Squid 1 was salivating over the idea of being able to make his own cordial.
We move on to a paperbark tree. It's pretty useful when treating hay fever and sinus infections, if you crush it you release a vapour. Or rub it against your skin and it acts as a natural insect repellent. If only I recalled this two weeks later when I am slayed by a bronchial cough and my mossie-munched limbs depict a human dot-to-dot picture!
With our new found medicinal knowledge we sign up for a spot of fishing.
There may have been whitecaps blowing off the shoreline, but that didn't deter two determined kids casting a line. The Squids good-naturedly ignore the brisk south-westerly winds blowing at us on the Kingfisher Bay jetty in their determination to catch dinner. Egged on by an enthusiastic Activities crew they are shown the basics of casting, rod familiarisation and bait selection.
It's fortunate they were booked into the Eco-Junior Ranger evening activity featuring a pizza dinner, or they'd have gone pretty hungry!
The Squids and The Skipper take to water for the afternoon in a canoe, all the while being filmed by BoundRound producer Amy who is probably having as much fun as they are getting some sand in between her toes.
Unfortunately we hadn't bulked Squid No 1 up enough for the height and weight restrictions for the Seqway to explore the beach…so he's already put that on his "Must Return" list for when he's 12!

Me…hmmm…it is rumoured that I am reclining on a lounge chair by the very appealing pool. Who said travelling with kids is arduous? The Squids do locate me after a fasion, and express their own sense of aquatic joy!
I'm almost jumping for joy when Kingfisher Bay Resort Activities staff tell me the Eco-Junior Ranger activities are off limits to parents! Perhaps we'd like to head out for dinner at the Seabelle Restaurant or Maheno Restaurant?   

What? Did someone say "Date night!"???? Hmm you don't have to ask me twice! Waiter bring be a bottle of our finest…and I see scallops are on the menu!
For the record the Squids had a terrific time at the Junior Eco Rangers night walk and campfire. They were asleep in two minutes back in our rooms…and THAT is the perfect night out for us all in my mind!
Chatting at the café the next day I get talking to a Queensland local who makes the Resort her annual escape. She calls it her "re-boot" as she pampers herself in eco-style comfort. I can totally see the appeal of making this a regular pilgrimage. Kingfisher Bay Resort is a gorgeous place to disconnect with technology and reconnect with one another, or yourself.
As for the Squids….. they loved getting some star treatment from the Activities crew in their role as Junior Bound Round reporters (sigh…..next they'll be demanding Vanilla Malt milkshakes to their trailers!).
Here's the full story of how the resort gets the thumbs up from our Squids via the BoundRound app!