Writer Susan Sontag once wrote  "I haven't been everywhere but it's on my list" and I'm following closely behind her as I embark on a 6 mth trip around Australia
This week weary winter workers step back into their corporate wear, while I'm swapping mine for camping gear. I could fib and claim it's all in the name of blog research, but it'd much more fitting if we attributed it to one woman's mission to update her Australian tea-towel collection!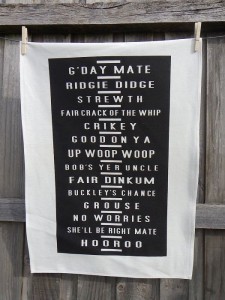 While our family have been crazy-madly behind the scenes packing up a house to rent out, sorting out professional lives, preparing a Camper-trailer and 4WD and helping the kids prepare for the adventures we've forgotten to stop and share the itinerary.
Just a humble little road trip really.
We aim to take in every natural attraction featuring a drop-dunny with a view, blow the dust off the exhibits in sleepy small town museums (which will invariably need a key from the nearby post office and a cup of tea with Marjorie to access) and gaze adoringly up at man-made giant things that we drive 30km out of our way to see (someone told me about the giant gumboot…..I'm tempted!).
From the outback to the coast, we'll be snorkelling reefs and hiking escarpments for sunsets which would make a landscape artist take up photography.
We'll certainly aim for close encounters with a lot of wildlife, but none with the cast of Wolf Creek (no I haven't seen the movie…. the concept enough scares the moleskins right off me)
So here's the rough plan……and I'll be sure to update you with some tea-towel purchase highlights!
Leave the Mornington Peninsula in a blaze of glory…turn back 20 mins up the road because we forgot to hitch the wagon on!
Drive directly to NSW Coast and Dorrigo area…and plop down on a beach for a bit! (our Victorian bones need some warmth)
Hightail it up to Lamington NP
Catch a barge across to Fraser Island National Park
Mooch about a bit between Townsville to Cairns
Snorkel down into the underwater forests of the Great Barrier Reef
Meander from Cairns to Cape Tribulation tiptoeing along the Daintree World Heritage Rainforest
Bust a move along the Bloomfield Track to Cooktown
We may not make it up to the Tip but we will scarper through the Cape York Peninsula
Let's see, then there's the Savannah Way ….from Cairns to Broome
Hang a right at Lawn Hill National Park and check out Riversleigh (a sensational Dinosaur World Heritage Site)
Will we find the ourselves on the Finke River Track? I sure do hope so!
Catch our breath in Katherine, and have it taken away again in Kakadu National Park
Catch a movie on a deck chair in the outdoor cinema at Darwin then hit the road again for Kununurra and Litchfield National Park
Hey we're in the neighbourhood so we may as well drop in on Broome via the Gibb River Road
And if we see the light on we'll ring the doorbell of the The Kimberley Region incl Mitchell Plateau and Beagle Bay
I reckon Halls Creek and the Bungle Bungle's will have a fine assortment of Kodak moments
While Halls Creek to Alice Springs via the Tanami Desert track & the MacDonnell Ranges / Kings Canyon will probably send the digital camera into meltdown!
An outback pilgrimage could not be complete without a worship at the base of Uluru / Kata Tjuta National Park
From Uluru to Marree via Fink River Track and Oodnadatta Track…. I'm sure we'll be sick of playing "I spy a dead roo"
I'm thinking that Hawker via Flinders Ranges and the Gammon Ranges will have us oohing and ahhing
And eventually we will amble back to Victoria via Broken Hill or Mildura (depends on how the tea towel haul is going)
I've had the Skipper working on a Cone of Silence pod for the Landcruiser to assist when the 'Are we there yet?" line of questioning starts.
For the record, the answer is "No. We haven't been everywhere yet."