We fuel up on Katherine and travel west towards the Victoria River region. Expecting a boring drive, we find ourselves loving the drive through the Judbarra / Gregory National Park. It's 13, 000 square km's of amazing land-forms, towering sandstone pillars and bulging, beautiful boabs. This is spectacular landscape, sporting some impressive sandstone escarpments.
The Victoria River, known locally as "The Vic" is the lifeline for pastoral properties, a provider for recreational opportunities, and a respected part of aboriginal heritage.
We take a short, oppressively hot walk into the Gregory Tree.
Using the "emergency lemon drops" bribery action to entice each weary step from the Squids. It ain't a pretty site. We are rewarded with an impressive boab tree.
The Squids are rewarded with sticky treats as we admire the remarkably untouched etchings in the tree. 2 July 1855. Gregory's Tree also had significance to Augustus Gregory's North Australian expedition, which was commenced in 1885.
Expedition artist Baines marked the arrival and departure of Gregory's North Australia into the boab.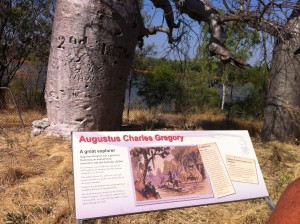 Augustus was a practical bushman, animal lover, innovative and mechanically skilful. He was clever enough to invent a pack saddle to replace the old English horse furniture that was not suited to the Aussie bush, which allowed the horse to sweat and enabled packs to be bucked free if the horse stumbled.
He may have been ahead of his time as well with his ability to dehydrate and compact food as well.
His 'Gregory Patent Compass' which made it possible to use on horseback, enabled him to move faster in the bush.
I reckon he deserves a bit of graffiti on a boab for his efforts.
This bodacious boab is a registered sacred site as well.
It has special significance to the Ngaringman people of the area. But that's not a story I'm privy to.
It's our last night in Northern Territory for a while.
We pull up into a bush camp halfway between the Victoria River / Timber Creek and the WA Border at a roadside stop called Saddle Creek Rest Area. We've got some fresh fruit and veg to consume as it's a show-down with the Quarantine staff tomorrow.
Looks like half a dozen grey nomads and Britz Australia vans who've pulled into to join us have the same idea.
It's also a chance for us to celebrate 3 mths on the road.
We do so by revisiting the camp chores … it's time to step it up troops as Mum reckons you are up for more! The little Squid is now in charge of rolling up annex windows and sweeping.
Big boy squid is still grumbling about setting up camp chairs and tables, and now I'm talking dishes? There may be a mutiny before we hit the border.
It's a fair call though. The temperature's are rising, the set up and pack up is taking it's toll and the Squids are braying for more icy-pole allowance.  If I'm shelling out $5 a week I need to see a little more sweat from the minions.
We mull over domestic disputes while watching our last NT sunset slipping over Duncan's Passage in the distance.
Time for bed.
Aaaand we're awake again.
Road trains and vehicles toot and honk as they pass by. The WikiCamps and Camp 8 Free guide books don't mention that a popular practical joke on behalf of transporters is to wake slumbering travellers as they prepare for a WA time change.
They honk and toot into the night.
Again.
And again.
We hope to get some sleep in the next state.