Not too much to write home about today! We're hitting the road again, staying on the bitumen and take Mulligans Highway which is mercifully sealed all the way.
It's also rather uneventful, giving us all the chance to catch up on diaries and DVD watching without bumps and moans.
This route takes us though Lakeland Downs, past the Palmer River, Mount Carbine, Mount Molloy and Mareeba and thank God, as it's a long and boring road otherwise.
Just what I need to catch up on some blog uploading. If only there was internet connection. Bugger. Best we stop and read the information boards then.
Back in Cairns and it's time for a bit of housekeeping.
The latest module of school work to post off. More Telstra tech bar geek dates. An accommodating mechanic who gives the Landcruiser the once over and the all clear to continue on (phew) and a chance to rectify the bad fringe trim I gave myself in a fly-speckled mirror under instruction from a 6yo back in Cooktown.
We have cruised into the Skipper's cousin Sarah's place – a busy and committed school teacher and her soon-to-be graduated Juvenile Services Support worker hubby Michael. We suspect they don't know just how much washing we really are arriving with – but they along with flatmate Brian and dog Bubbles graciously open the door, and the washing machine, and let us sleep in real beds. Repeat after me. REAL BEDS. Bloody Luxury.
From their front deck we watch the Kuranda Steam Train rumble up the hill, as the Bubbles, a rather endearing greyhound watches us.
We park the camper in their carport for a few days, enjoying catching up on their busy lives as well as the chance to bake in their oven, send their washing machine into overload and over-pamper their dog. We're also unpacking the snorkels as tomorrow we are going to get wet and meet some fishy locals!
As I said, not too much to write home about, but some days on the road are like that.
Cue the pictures to distract the reader….now …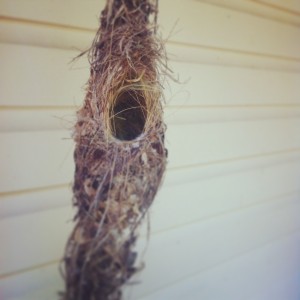 (Cute sunbird nest in cousin Sarah's backyard.)