Don't come to Fraser Island expecting good mobile reception, or a leisurely Sunday drive. Do come however, for a total wilderness sand island experience, where you get off the grid and off the beaten track!
Fraser Island deserves every gold star in its World Heritage listing, and the The Great Sandy National Park is the largest sand island in the world.
There's a million reasons to visit this 184, 000 hectares of beauty…but I'll make it easy for you and list just 10 reasons that have drawn us back for a 2nd and 3rd visit.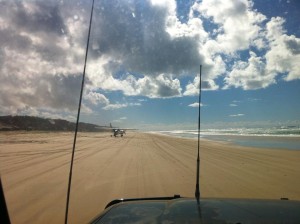 Your top 10 must-do's on Fraser Island:-
Let your wheels down and take your 4wd exploring a sandy track
Camp under prehistoric trees, giant Kauri and Hoop Pines in Central Station where the surrounding campsite dingo fence both spooks and reassures you
Drive on the beach….it's such an iconic thing to do…and there's an 70km p/h speed limit! Seventy-Five Mile Beach can sometimes resemble a highway with the traffic, and it's a bit of a thrill to keep an eye on tide times to ensure you make it back safe and ahead of the rising waters!
Native Dingoes….look, don't touch, don't feed, don't taunt…but marvel over their beauty. The dingoes of Fraser island are one of the purest strains of dingoes surviving in Australia today, and were thought to have been introduced to Australia between 3,000 – 8, 000 years ago.
The Maheno Wreck….the story isn't half as spectacular as the image of its rusting beauty in the surf
Watch planes land on Seventy-Five Mile Beach…while you watch for other 4WD's and dingoes hovering behind fishermen
Surf fish (not my thing…especially with a dingo hovering nearby…but the die-hards love it and come back year after year)
Lake MacKenzie….beautiful, beautiful, beautiful…did I mention beautiful? Plunging into its cool, azure waters makes anyone feel as though they have stepped into the pages of a swimwear catalogue! I could lie on its soft, white sand forever!
Lake Wabby….because racing down a sand-dune into a lake brings out the kid in us all
Eli Creek…walk it, swim it, boogey board it, just get in it and follow the crystal clear creek flow out to the ocean.
There's others to add too like the Champagne Rock Pools, paying homage to the Thong Tree at Eurong Village, popping in for a fresh coffee at Kingfisher Bay Resort, standing under prehistoric fern trees on quiet boardwalks and gazing in the distance at the progress of sandblows.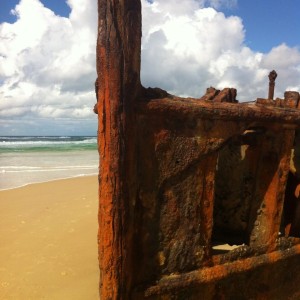 We've run out of time to fit in all in, as well as being hampered by some rather annoying torrential rain which has made our campsite at Central Station feel a little too damp and cool for we still thawing out Victorian's….guess that means there's a 4th trip in the planning down the track!
If you'd like to start planning your own trip here's two great starting points to research and plan.
It's time to catch the barge out of here, pump some air back in our tyres and hit the road for the next destination!