I love nothing more than a good romp in the outdoors with the squids over summer. My pick for top local outdoor play and learn spaces are the Junior Ranger programs at Mornington Peninsula National Park, Point Nepean National Park, Coolart Wetlands and Historic Homestead and Collins Settlement near Sorrento.  
Parks Victoria's FREE Junior Ranger program shares the hidden mysteries of our special places, as kids enjoy energetic experiences connecting them with the environment and history.
For children between 6 to 12 years old, the Junior Ranger FREE summer program is hosted by Parks Victoria rangers.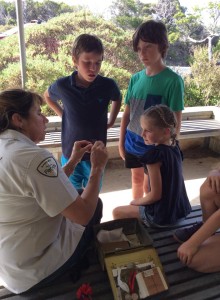 Its interactive nature and history based activities are designed to nurture a sense of exploration and caring for the environment, from rockpool walks, bird-watching and beachcombing, to art in the outdoors and historical super sleuthing.
The Junior Ranger program will run Tuesday's, Wednesday's and Thursday's at various park locations on the Southern Peninsula from 5th January until 21st January, 2016.
A Peninsula holiday tradition, the Junior Ranger program is well loved by local families and regular visitors, with many children discovering life-long passions for the environment and history.
Quarantine Station capers
At Point Nepean's Quarantine Station the 'Mystery Box Challenge' will lead kids on a bay beach coast walk where their memory skills will be tested. The  'A.E.I.O.U' cultural heritage program will look at history, craft and stories of the Aboriginal and European people who came to Point Nepean, and the grossly popular 'Inside Outside Ewww' will have kids examining bones, fur and even poo.
Mornington Peninsula horrible histories and feathered friends
The remarkable and little known history of the Collins Settlement will bring history alive for kids with the '3C's of First Settlement' program, while budding bird-watchers will learn bird identification skills in the coastal and wetland environment through 'Finding Feathered Friends' at the Coolart Wetlands.
Rock pool rambling
For kids who love peering into rock-pools and identifying coastal critters, the well-loved 'Rock-pool Rambles' will be sure to whet their appetites and wet their feet at Flinders and Portsea.
Book your Junior Ranger spot today
Bookings: All activities are free, but bookings are essential and open from 8 December at www.juniorrangers.com.au.   Children must be accompanied by an adult at all times.
Dates: Tuesday 5th January – Thursday 21st January, 2016 at various times. See on-line program.
Venues: Quarantine Station, Point Nepean; Collins Settlement Site, Sorrento; Coolart Wetlands and Homestead, Somers; Mushroom Reef, Flinders and London Bridge, Portsea.