Hold on to your beach towels! I made the cut!
I have just been announced as a Finalist in the Work Stylist category for the Flying Solo small business awards.
Not only was this such a wonderful process to go through in entering the Flying Solo awards, but I've also been able to reflect on my community connections and how I successfully manage to integrate my work with my life on a  daily basis.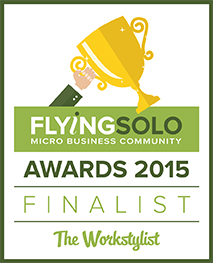 In announcing the finalists today I've also discovered some amazing fellow Flying Solo business owners who live bright and brilliant lives with passion as well. What sensationally inspiring company I am in.
You can meet all the other amazing Finalists over here at Flying Solo and I hope to meet some of them in person soon as well.
I'm having a fist pump moment, and if this isn't an excuse to knock off early and hit the beach I don't know what is! Can't wait to share this super news with my squids and The Skipper and all my super clients. Ripper Rita!