In this nearly 20, 000 square km park there's quite a few waterfalls and swimming holes to explore. We are so glad that someone tipped us off about Maguk / Barramundi Falls. I'm calling it the unsung hero of Kakadu.
This Quiet Achiever was a short 1 km stroll in the early morning and opened up breathtaking waterfall vista that's straight out of Healthy Living ad.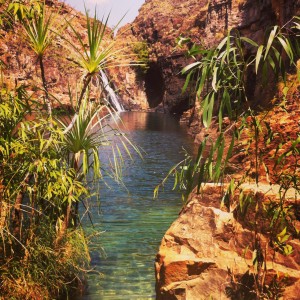 The base of Maguk has a beautiful plunge pool and I swear there were angels singing!
These waterfalls are simply stunning, as we slide along slippery rocks, crawl into crevices, hunt for rocket frogs and whoop it up swimming under waterfalls. We cannot believe we have it almost all to ourselves. With the exception of one of the Skipper's work colleagues we encountered unexpectedly at the edge of the falls.
It was a hot walk back to the car, and we savoured the cool contrast of the odd monsoon rainforest shade to keep the Squids motivated on the return trip.
Nyirrang Jawoyn nyirr-m-bolk-nangarnan. Bu-m-bbolk-nangarna"

We Jawoyn look after this place. You look after this place too. – Bulayan Nawurrkbarbar, Wurrkbarbar clan, Jawoyn traditional custodian
We're using Cooinda Campground and Resort as our base for a few days to explore this end of the park.
In fact we've been planning this return for two years when the Skipper and I were last here on a quick kid-free stay with friend living in the park. We know Cooinda will tick boxes for them because it has a HONKING BIG POOL!
It also clearly ticks boxes with the local Binunj kids too who descend on it during a trip 'into town'.
The Squids make friends and learn some snazzy flips and flings to impressive the grey nomads with in the shaded end of the pool.
Just kids playing. No black. No white.

A frame. A frozen moment. Two spindly boys, water glistening on their inky skin. Somersaulting into a pool. Somebody's sons.
There's a blur of white. Whopping and flying alongside them. My son.
A ying-yang, black-white water-play festival. The only boundary I can see is who can soar the furtherest. May they all soar into their futures. No Prejudices. No questions. No missives. No misunderstood intentions.
Just 3 kids playing in the water. Full of joy, and pride and happiness. Soaring.
There's stories on them rocks
The wonderful thing about Kakadu is that you are also seeing the landscape and its importance to its oldest inhabitants through some very significant artwork.
This is nature's gallery.
The most notable rock art for public viewing at Kakadu at Nourlangie Rock. Mouth sprayed stencils, and the x-ray style ochre paintings tells a history that spans millennia, and thrilling tales of Creation Era legends.
The Lightning Man has captured the kids attention. And the rock art depicting Lighting Man has nurtured their understanding of the storytelling of indigenous.
We hang awhile with Christian, a Kakadu Park Ranger as he shares insights into the jigsaw of time told through these rock art.We didn't make it up to Gunwarddehwardde Lookout this time – a bit too hot for the Squids at this time of day – and we still have pics on our screen saver of the last trek up there a few years back.
It's been a top few days connecting the jigsaw of time, and nurturing some cross cultural awareness on the Squids.
Check back in later, I'm way out yonder and there's not enough juice to upload photos! Or pop over to our Instagram page and see what we're up to.