Traveling with young children is not the easiest thing to do. You'd think it would be.
Forgotten essentials are lamented at random intervals….the special pillow-pet left in the care of Nana, the Lego collection, the UNO deck that mum was sure she packed. Then there's the insisted upon favs that DID get packed which have been spurned on day 2.
Disruption to routine, the sudden limitations of catering requests, missing out on mates birthday parties, dodging rains and winds while living a rather nomadic existence in the elements…it all conspires to bring an idyllic family adventure undone from time to time.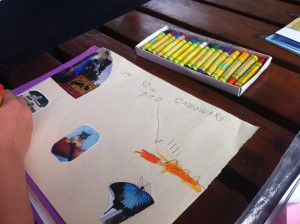 Sometimes you just have to mooch about a bit when you travel with kids.
Cairns offers us a bit of travel respite. In spite of the continuing rain.
We spend a few days annoying Telstra tech-bar geeks, drying out our sodden campgear, powering up every gadget and the squids Distance Ed schoolwork.
While in Cairns we also manage to tick off the following to-do tourist list:-
catching up with accommodating rellies (and their washing machine …bless them and their clothesline)
and marvelling over how clean the grey nomads caravans are next to us back at the caravan park.
Sadly the cool sea breezes promised in tourist brochures were more like tropical downpours – more wet evenings in the camper trailer – we are starting to yearn for the dry heat of the outback!
Normal travel programming will resume soon … we just needed to few days to step off the travel circuit with kids.