As a kid I had my share of tredding the boards at the local theatre.  I never made it to the lead role – I was usually cast as the 'character' or anything involving a liberal serve of musical ham – think Eliza Doolittle's Dad in Pygmalion, the Girl Who Couldn't Say No in Oklahoma, or The Drunk in Ibsen's The Insect Play. There was that one time I was cast in the romantic lead as Wendy in Peter Pan ( though wearing a Grandma nightie on stage isn't all that flattering). But it WAS theatre, and it was dazzling.
These days I get my live theatre kicks sitting in the audience instead of onstage where it's really best left to the professionals.  But Cabaret Cathedral's Razzle Dazzle had me feeling like I was right up there with the gang again, one big grease-paint and spot-lit family.
You don't need to be a theatre tragic to be swept up in Razzle Dazzle.
Brought to us by talented Jason Coleman, Razzle Dazzle will captivate even the most jaded audience member. It's lavish, cheeky and a stunning display of talent. Less of a song and dance production, and more of a journey into visual splendour and heartfelt creativity.
Razzle Dazzle is one big, velvety theatrical hug.
The production is the brainchild of the Peninsula's prodigal son, the energetic Jason Coleman.
From international touring acts and judging on So You Think You Can Dance, to choreographing Happy Feet and the 2000 Sydney Olympics Closing Ceremony (and pretty much every other industry extravaganza in between) Jason has had his hand, and feet, in countless choreography successes.
In Razzle Dazzle he's on stage with the lovable Wayne Scott Kermond (think Charlie Chaplin meets Billy Crystal on the dance floor) who guides us through the show as our host.  A classic song and dance man, and veteran of all our favourite musicals – Wayne has us all captivated by his cheeky spark and genuine audience connection.
Then there's the rest of the performance artists  – those divine, daring dancers with limbs that contort and faces that sparkle. You simply cannot take your eyes off them.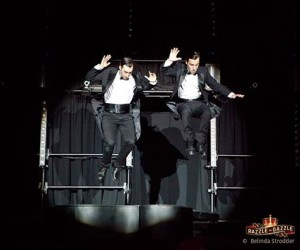 The thing about this show is that you never know what's coming next.
I've seen it twice and I still don't know what to expect. Just as you are lulled into a sense of how it shall be, BANG, in comes a tempo change, a fight song, a lusty ballad, a twisting spectacle above your head. These guys use the stage and interact with the audience like no show I've seen in a while.
Speaking of stage – let's just say freight containers never looked so sexy. It's Moulin Rouge meets New York speak-easy and a little bit of Big Top circus thrown in for good measure.
The bespoke world of the incredible Cabaret Cathedral is a world first urban theatre venue.  This fully transportable urban theatre space is created entirely from re-purposed shipping containers, it's custom engineered and it's a show-stopper in itself.
You're going to ask me next who the show is aimed at.
Take your girlfriends for a giggle, take your holiday house guests because this is better than any BBQ conversation, take your boyfriend for some officially sanctioned appreciation of the female form, take your harrumphing dad who folds his arms when you mention live theatre, take your grandma cause there's show tunes and take the jaded teens who think they've seen it all on YouTube – take it from me – they haven't! This will blow their minds.
But most of all take yourself – because you will be bloody-well dazzled by this urban theatrical spectacular on the little old coastal shores of Rye.
Thanks for coming Jason Coleman, and for shining the spot light on your talented mates.  It's no wonder Razzle Dazzle gets a standing ovation night after night. I'm lining up for an encore.
Located adjacent to the Rye Carnival,  Cabaret Cathedral is on the Corner of Dundas Street and Point Nepean Road Rye 3041 and tickets are available until the end of January 2016 at https://www.stickytickets.com.au/31714/jason_colemans_razzle_dazzle.aspx
(Image acknowledgement: Thanks to the click-happy talent of Belinda Strodder)