Today we're up for a 'day trip' – from Cooktown to Laura – a mere 300km round trip for the day! (Amazing how one adjusts to the drive time the more remote you get!)
This allowed us to creep further up towards 'the Tip' and earn the right to wear at least a sleeve of the 'Been there, done that on the Cape York Peninsula' T-shirt (even if we didn't get to make it all the way along the 1, 100km unsealed road to the pointy bit of Oz!)
The sealed road day trip (a luxury in these parts) explored life on the Cape York Peninsula, its early colonial history, WW11 memorabilia and a chance to yarn with the locals to discover a little more about remote Australia's lifestyle today.
The Cape York Peninsula has welcomed many a land explorer from Leichardt, Mulligan, Kennedy and the Jardines. And every roadside stop shares some of their travel tales, trials and tribulations as they opened up this part of the country. We hope our squids keep these names in their memory bank when they get to History lessons in High School, there's a tonne of early explorers they're being exposed to out here.
You know, A'straya is bloody amazing.
We're on a corrugated, bright red bulldust road driving into the middle of nowhere. Or somewhere. It depends how you want to look at it.
The sheer mindedness of people who carved out a living out here has got to be applauded.
Take this chap called Fergus and a place called Old Laura.
The Old Laura Homestead told a tale of early settlers and farming communities.
In 1879, a young Irish immigrant, Fergus O'Beirne, selected Laura Station as a lease that was recorded with the Crown Lands Office on 14 October 1879. This is about as fair away as the Emerald Isle as you could get.
We peered into and wandered around an amazingly intact old homestead, with relics of a forgotten farming area – blacksmithery, slaughterhouse, rusted truck and separate aboriginal stockman quarters. The National Parks service have done a terrific job with volunteers in preserving this area with limited funds, while still allowing it to age and decay gracefully in the bush.
Take this place called Laura.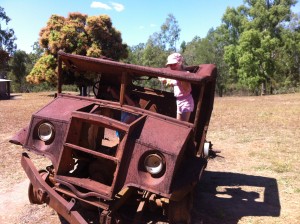 We stop for lunch in historic Laura, in Quinkan Country, which was a significant supply centre for the Palmer River Gold Rush towns of Palmerville and Maytown in the 1870's. It was also once the terminus for the Cooktown-Laura Railway, the lifeline of early settlers in the north, and a busy community.
Nowadays you could dance a merry jig buck-naked down the deserted road through town, and only one fella in the pub, and a few grey nomads getting petrol would take notice. Nevertheless, we kept our clothes on and shouted the kids a few fast melting icy-poles from the tin shed General Store.
Licking melting icy-pole we read historical plaques and Royal Flying Doctor notes – we're still amassing tales of fortitude.
There's a rather ramshackle Laura Heritage Trail featuring some of the stories of the original aboriginal police force and trackers of the region, a part of history we don't often learn in the books. Today we were travelling with some hot, hostile munchkins, so I jumped at the chance to lock a rather grumpy 9yo Squid into solitary confinement of an original lock-up building. More grumping followed!
Laura is these days the destination for many coming off the Cape York Tip adventure, where they put air in the tyres and beer in their bellies. We enjoyed watching a dribble of 4WD vehicles pull into the pub, with Victorian number plates featuring prominently.
Laura was as far up the Cape York Peninsula as we'd go on this trip, but we were itching to go further. A few hiccups with the trusty chariot were holding us back so we're already planning a return trip to The Tip when the Squids have left home and we can claim Grey Nomad status.
Take this community called Quinkan.
We stop off at the Quinkan and Regional Cultural Centre. We hesitated at the door as there's an entry fee and we're watching the budget on this leg. We were rewarded for pulling out the wallets as the Centre,  established with the support of the Queensland Heritage Trails Network, had some of the most creative interpretation we've seen and really had the Squids engaged.
It showcases all aspects of Quinkan country, including its Aboriginal and non-aboriginal heritage and natural environment, with interactive displays on the rock art galleries, local families and tribal elders, aboriginal dialects, gold rush days, rodeo fun and cattle station life. It also shared the story of the highly regarded 3 day Laura Dance Festival.
Take this Dance Festival.
This event has over 5, 000 people from indigenous communities from all over Australia and the Torres Strait Islands descending on Laura to kick up a dust storm at one of the largest gatherings of Indigenous people in Australia. I'd vaguely noticed this appear on the ABC or SBS news before as being held every 2 years in June at the site of the nearby traditional Bora ground, a respected and sacred site to the Aboriginal community.
Indigenous culture and connection to community is clearly thriving in this part of Australia and it's great to see the pride in which it is displayed and shared.
Take this place called Split Rock.
The Quinkan Rock art galleries, otherwise known as Split Rock, are listed by UNESCO as being amongst the top 10 rock art sites in the world. The Split Rock Gallery nearby helps us all to further experience a timeless culture.
And we are here on a mission.
Boy Squid has a Grade 4 Indigenous Australians Cultural project to do and we've suggested Quinkan can offer him a far superior experience to anything he'd read about. I've got his sketch book ready, although there's still a little grumbling going on. (Should've left him back in the Laura lock-up.)
The rock art of south-east Cape York Peninsula forms some of the oldest and largest galleries in the world, with a multitude of paintings, stencils and engravings across the traditional lands of the Kuku Yalanji, Guugu Yimithirr and Kuke Thaypan people.
We head to the Split Rock Gallery, which have been identified as being 30, 000 years old, and managed today by the local Nugal-wara community . These works were only rediscovered in modern day in the 1960's when artist and rock artist researcher Percy Tresize stumbled across them.
We ascend a hot and dusty tracks – slapping away lazy flies – towards a spectacular earthy sandstone escarpment. There in the shade of the overhanging cliffs we sit mesmerised – we are gazing at almost perfectly preserved engravings, painting and stencils of totem animals and spirits, hunting techniques and tools.
It's no wonder UNESCO lists them as being among the top 10 rare rock art sites in the world.
The littlest Squid, herself an avid artist, is mesmerised. She props herself down on the ground, takes out her scrapbook and begins recording all she can see. Her naïve copies as fascinating as the work she is gazing up at. I know she will remember this.
The bigger squid will perhaps remember this for a different set of reasons. A reluctant drawer, this becomes an epic battle of the wills with a reluctant student in hot weather. He moans and groans his way through his project, with us waving flies away and pouring cold water on his head to keep him focussed. The things you do for your kids. And a bloody education! God bless the other travellers who sauntered by and gave us encouraging thumbs up to stick at it!
Moaning aside, the Squids were immersed in a rock art experience few Aussie kids get to see, and a cultural recorded in pictorial images that we had the privilege of accessing.
And for the record, his Distance Ed teachers praised his project. I hope he thanks us some day!
In addition to the splendour of Split Rock, we loved this drive past escarpments, magpie geese in billabongs, old homesteads, and cattle stations, kicking up red dust all the way before we headed back to Cooktown. We may not have gotten to the tip, but we can tip our hats to the history and culture of the Cape York Peninsula with some authority. Take that A'straya!