When I was a kid I had a book called "Tiger's Milk".  Can't recall what the junior novel was about but I do recall that Tiger's Milk was the name for molasses and milk that the young hero in the book craved. Somewhere along the way, I had the chance to try Tiger's Milk for myself.
I recall spitting it out vehemently. Much the same as my son's reaction at a Sugar Mill when he dips his tasting-stick in enthusiastically to a tub of molasses. Phewey! No Tiger's Milk follow up request for him.
Mind you this tasting comes after some rather joyful gobbling of sugar in many forms on a rather sticky tour.
Sweet learnings
We are at Mackay's Farleigh Sugar Mill, which crushes over 1, 450, 000 estimated tonnes of cane hauled in from 369 farms each year.
Built in the 183o's by Sir John Bennet Laws (who was also founder of the world's oldest agricultural research station in the UK) the mill had an almost Dickensian quality to with its seething, hissing gadgets and pipes (but minus the child labour).
Donning hard hats, safety goggles, hair-nets and long sleeved tops and pants we followed our Reefadventure Tours guide and stepped into a living, breathing machine that produces over 14.30% of Commercial Cane Sugar. And a lot of noise. And heat.
For us it was about exposing the kids to a nuts 'n' bolts factory that contributes to something they take for granted. Sugar.
And something they'd been driving past for weeks enquiring about. Sugar Cane.
The 3 hour tour was a very organic, heaving factory experience like no other we had ever seen. This was no sterile, please swipe your access pass and don't talk to the lab tech's experience.
It was all clambering up metal staircase, shouting over shuddering machines to burly blokes in high vis vests, peering into microscopes to see sugar separate, and dodging steaming hot thermometers.
The littlest Squid spent much of the tour with her hand on her nose to block out the earthy molasses pong. The bigger Squid was observed dipping his fingers into any tub offering sticky tastings.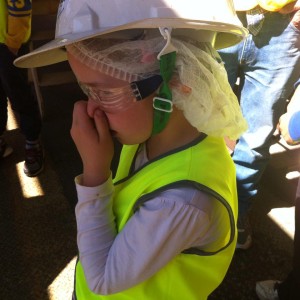 The staff were terrific, giving a friendly wave and nod at our small group who were mostly getting in their way. And, when production was halted mid tour because of a breakdown on the line, we were invited to cool our heels back in the guides room over a cuppa until things were up and running again.
The Farleigh Sugar Mill tour was great value for money (from memory $67 for a family of 4) and a very generous and hands-on experience for us all.
The squids certainly haven't looked at the sugar they sprinkle on their weeties the same way again.