The Great Green Way is a scenic route which winds itself through World Heritage forest, past banana plantations, endless For Sale signs in small towns and up into the hills.
Raincoats at the ready we toodled along the scenic Great Green Way route stopping for walks at Mt Bartle Frere and Wongaling Beach.
We also headed up to Tully, which claims the title of Australia's wettest town. Picnicking in our raincoats, next to the Great Giant Gumboot, the heavens opened again. I LOVE a town that lives up to its marketing promise!
We raced up the spiral staircase up the Bata Boot, affording us views of the town which grew from the rugged rainforested slopes of Mount Tyson in the 1920's.
From our 5 metre high perch (which represented the depth of flooding after record rainfalls) we enjoyed quite a birds-eye view of the 1930's art-deco buildings of Tully, as well as tributes to Tully's sugar cane pioneers. All the while a dense plume of steam from the sugar mill smoke stacks rose above the town, and the misty rain continued to fall. There's more monsoonal rain here than in any other part of Australia and we jumped back in the car to dry out!
Bingil Bay enroute back to Mission Beach caught our eye with its funky beaches and lookout walks.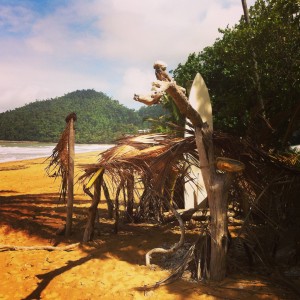 We'd steered clear of the council caravan park there but on closer inspection we'd have loved it (if the weather had also been just as welcoming!) I later learnt that Bingil Bay was also the birthplace of the first experimental tea crops in Australia so perhaps that's why it attracted me and my well-loved teapot to its shores.
There's some lovely little walks in this area – if only it would stop raining!
Mission Beach will also on this trip be our first chance to re-connect with others we'd met earlier on the trip. Ange, Bart, Angus and Oscar who are doing a similar lap of the map over 6mths, and like us are crazy enough to be managing the Squids school work.
They won't be the last we meet doing the same circuit and putting on the Distance Education grimace face! Our take is that by the 2nd caravan park encounter that practically makes you next door neighbours back home. It's always great to see familiar faces on the road … no matter how recent the friendships are.
The Great Green Way also goes down in family folklore for it's connection with Kermit the Frog. And said Tree Frog's connection with my person, which led to my iPhone connecting with concrete.  Very green. Not so great!